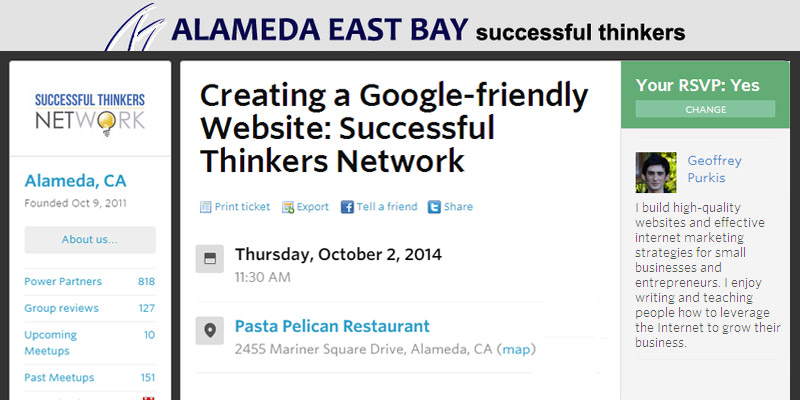 This presentation is the second part to our previous "Getting the Most Out of Your Website" workshop. Click here to download the first workshop.
Your website is an essential part of your small business, it is important to give it the attention it deserves. We repeatedly see good websites deliver excellent results for small businesses which would previously have wasted a lot of time and money on ineffective marketing.
In this presentation, we will cover topics ranging from Google+, the importance  of social shares, link-building, video (YouTube) and more. We will be giving out another free SEO checklist (mapping the value Google's page rank algorithm puts on different types of marketing channels) as well as other resources at the meeting.
We will cover all the essential elements to creating a Google-friendly website.
Address: Pasta Pelican Restaurant, 2455 Mariner Square Dr, Alameda, CA 94501
Meetup: Alameda East Bay Successful Thinkers Lunch & Learn
Date: October 2nd, 2014 11:30am – 1:00am
You'll learn how to:
Give visitors the information they're looking for
Make sure that other sites link to yours
Create a content strategy that generates traffic and links
Build networks and relationships with your audience and industry leaders
Join our event, and learn how to create a website that will fill your sales funnel with qualified, quality leads. 
Downloadable Event Resources:
Here is a list of things to do to improve your Google ranking:
Get verified by Google
– search and sign up for "Google My Business"
– then get reviews (ask for them!)
Automate/ Schedule your social media posting
– sign up for Buffer or HootSuite
Start Blogging + sharing posts with Buffer/HootSuite
– make sure to link back to your website as much as possible to improve SEO results
– hire a writer or go to Fiverr.com if you don't have the time to write your own content
Engage on Social Media
– replay to comments, messages and shares as quickly as possible to make a good impression
– ask your friends/readers if they could share your stuff.
– share other peoples stuff, they will return the favor (hint hint)
Start Email Marketing
– sign up for MailChimp
– import your contact list (people who have given you permission always works better)
– start asking for email subscribers
Setup Google Analytics
– you can't improve on something that you can measure
And remember to focus your efforts on your content, the absolute best way to have a successful website is is to create tools and resources that people link to. Boring I know.
Want more advice about web design and internet marketing? Read more from our blog!
I also encourage you to check out the rest of our site and/or contact us to review your current internet marketing campaigns and make suggestions.
GET MORE STUFF LIKE THIS
SEO, Social Media, Video, Marketing, Blogging, & WordPress Tips, once a week.
Thank you for subscribing.
Something went wrong.