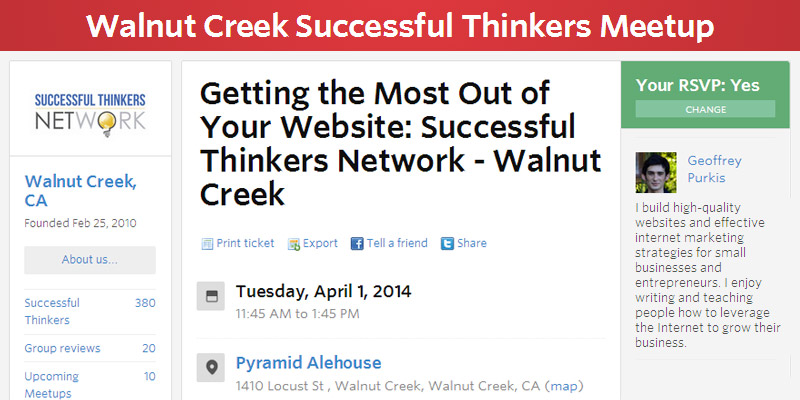 Web design and lead generation has become an important strategy for modern marketers, as they strive to create demand and get their messages heard by increasingly sophisticated, multi-channel buyers. In today's complex world, marketers should use websites to build brand awareness, nurture prospects and customers, qualify leads, and ultimately generate measurable revenue.
In this comprehensive presentation, we cover topics ranging from content marketing and website SEO to analytics and more. We will be giving out a free SEO checklists and more resources at the meeting.  This presentation will teach you how to collect information from prospects, and deliver the highest quality leads to your sales team with your website.
Address: Pyramid Alehouse, 1410 Locust St , Walnut Creek, CA
Meetup: http://www.meetup.com/SuccessfulThinkersNetwork-WalnutCreek/events/173599582/
Date: April 1st, 2014 11:45am – 1:00pm
You'll learn how to:
Reach your audience more effectively
Build a robust lead generation strategy through marketing automation
Use content marketing, social media, your website, SEO, and paid programs for lead generation
Test, optimize, and measure your marketing campaigns
Join our event, and learn how a website can fill your sales funnel with qualified, quality leads. 
Downloadable Event Resources:
GET MORE STUFF LIKE THIS
SEO, Social Media, Video, Marketing, Blogging, & WordPress Tips, once a week.
Thank you for subscribing.
Something went wrong.