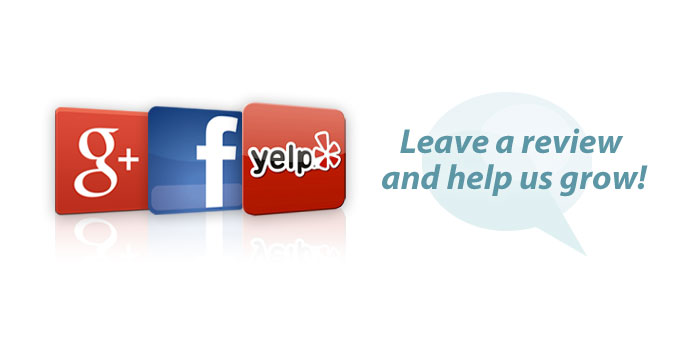 One of the most common questions business owners ask me is, "how can my business show up higher in a Google search?" Well, one of the first things we advise any business to do is to get more Google reviews from your satisfied customers!Google Reviews Tip for Small Business Owners
Some of our clients start doing this right away. They may get a couple of reviews. Two or three five-star reviews from their advocates. This is great because it improves their online rating average and it may help them to show up higher in the search engine.
However, while a few reviews are better than none, that won't cut it. Every review counts for something, for improving search results. But in the beginning, your star-rating will not show up until you have five Google reviews! To better explain, please ask yourself this:
Which of the three businesses would you choose?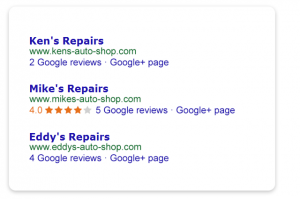 Did you choose Eddy's Repairs with a hidden rating?
(probably not)
Eddy's Repairs (in the example above) has a perfect rating on its Google+ page. But it is not shown because Eddy has less than five reviews!
Naturally, customers are more likely to eliminate Eddy's from their list of "maybes" due to "heuristics", a part of consumer behavior. Heuristics refer to the process customers have developed for making purchasing decisions more quickly. Take for example a customer who goes into a supermarket like Safeway to get some toothpaste.
This customer has over 50 options just between the Colgate and Crest brand toothpastes (Consumer Reports). According to the Food Marketing Institute, in 2013, the number of distinct items a consumer could find in a supermarket, on average, was over 42,000! (FMI)
This customer may choose one brand because of the packaging, or because it is familiar to them, even if the generic brand is cheaper and identical in every other way!
So, customers are drawn to products and services which they identify as the best options, in the most efficient manner possible.  Even though Eddy's Repairs has a better review average than Mike's, it doesn't make much of a difference because the customer can't see it in the search results!
70% of people trust the opinions of other consumer reviews when making a decision to purchase ~ Nielsen 
Google Reviews Tip for Small Business Owners
http://www.business2community.com/small-business/google-reviews-small-business-local-seo-secret-01300313
In summary, if you haven't received five Google reviews yet, then get on it! Make sure you are taking full advantage of your reviews. Once you have done this, check out our last post, which goes over how to feature Google+ local business reviews on your website!
GET MORE STUFF LIKE THIS
SEO, Social Media, Video, Marketing, Blogging, & WordPress Tips, once a week.
Thank you for subscribing.
Something went wrong.