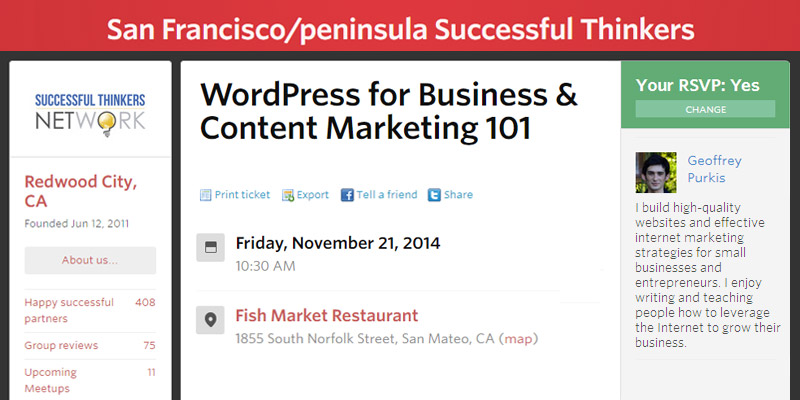 This presentation is the second part to our previous "Creating a Google-friendly Website" workshop. Click here to download the first workshop.
In this presentation, we will teach you quick WordPress skills to help you get the most out of website, including on-page optimization (SEO), link-building, security and more. We will also be giving out a worksheet for creating a content calendar and strategy.
We designed this presentation for busy small-business owners and self-employed professionals who want to quickly master the WordPress software.
Address: Fish Market Restaurant, 1855 South Norfolk Street, San Mateo, CA 94403
Meetup: San Francisco/peninsula Successful Thinkers
Date: November 21st, 2014 10:30am – 12:00pm
You'll learn:
Advanced Content Creation
WordPress SEO
Shopping Carts & Payment Systems
Newsletters & Auto-responder Systems
Online Video Production
Social Media Integration
and much more.
Join our event and learn how to improve your WordPress website to generate more leads and sales. 
Downloadable Event Resources:
Here is a list of things to do to improve your Content Marketing strategy:
Start blogging + sharing posts with Buffer/HootSuite
– make sure to link back to your website as much as possible to improve SEO results
– budget either time or money into your marketing strategy
– hire a writer and/or go to Fiverr.com if you don't have the time to write your own content
Focus on long-tail keywords
– make sure your efforts are ranking for the terms that are most meaningful to your brand and your customers
– do a bit of basic research and then build a list of relevant keywords you will target through your content
Automate/ Schedule your social media posting
– sign up for Buffer or HootSuite
Start making video (see examples)
– make it short
– don't just talk, show visual examples
Generate a List of Potential Topics – find a competitor and repurpose or improve their content
Create an Outline – Intro > Illustration > Examples > Opinion > Conclusion
Create a Conversation – use the words "you" and "I"
Use Data – link to reputable data sources (easy backlinking)
Keep Things Simple
Proofread, Add a Picture and Schedule – publish on a schedule
Focus your efforts on your content, the absolute best way to have a successful website is is to create tools and resources that people link to. Boring I know.
Want more advice about web design and internet marketing? Read more from our blog!
I also encourage you to check out the rest of our site and/or contact us to review your current content marketing campaigns and make suggestions.
GET MORE STUFF LIKE THIS
SEO, Social Media, Video, Marketing, Blogging, & WordPress Tips, once a week.
Thank you for subscribing.
Something went wrong.