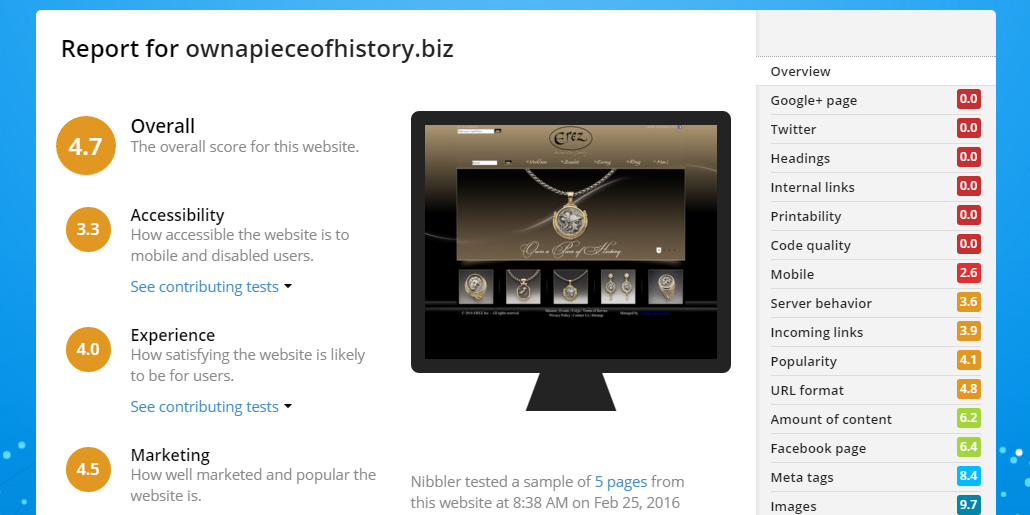 Configure your domain redirects from non-original pages versions (Top Priority)
High impact – Easy to solve for Marketer
Why it's important
Search engines do not like pages which duplicate large amounts of content on the same website, which can happen when the same page, due to Web configuration or CMS issues, is shown in different URLs.
A common scenario for this issue is found when the non-www and the www version of your site both feature your content. For example, when www.domain.com and domain.com show the home page information. You should pick either version to show your site content and use 301 redirects to refer from the non-original page versions to the original ones, making show you only show each page through one URL.
Getting it done
A 301 Redirect should be used to refer from the non-original URLs to the original ones.
If you are creating other subdomains, use relevant keywords and avoid duplicate content.
Optimize images for your website
Medium impact – Easy to solve for Marketer
Why it's important
An accurate text description of an image is valuable to search engines, and visually-impaired or blind website visitors. It's also valuable to websites in potentially generating traffic from image searches as well as avoiding losing potential customers.
This text is contained in the Alternative Text or 'Alt' attribute, which is seen by search engines, various social image sharing sites (e.g Pinterest), and is converted to speech by software for the visually impaired. This makes an accurate description of the content of the image highly important.
Getting it done
Ensure your descriptions are accurate for the content of the image.
Avoid Alt Text longer than seven words. The absolute maximum would be 150 characters including spaces.
Use the most relevant descriptive keyword, and avoid repetitive keyword stuffing.
Consider how users performing an image search may look for different attributes than a web search.
File names and captions should also be logical. Images should also be optimised for load times, but larger and higher quality pictures will perform better in image search results.
Check for Alt Attributes in your WooRank Advanced Review under SEO > Images.
Develop a keyword research
High impact – Hard to solve for Marketer
Why it's important
The most important element of a successful search engine optimisation strategy is picking the right keywords to target. Not only will it inform your wider marketing activity, but also trying to rank for the wrong keywords will cost time and money.
Accurate research will let you identify the correct opportunities to aim for, and give you plenty of insight into how to achieve them.
Getting it done
Choose the most accurate keywords related to your product, brand or service with a reasonable search volume with a lack of competitors. Look for longer phrases (long-tail) opportunities.
Common terms and phrases are more achievable than attempting to force users into adopting new words just to find your website.
Start by brainstorming as many potential words and phrases searchers may use, and look at what is actually resulting in visits to your website via your analytics platform.
Add additional suggestions via free online tools, including looking at the common results supplied via Google Autocomplete.
Watch for growing trends and opportunities via Google Trends.
Check Keyword Consistency and Keywords Traffic in the SEO Section of your WooRank Advanced Report to ensure you have the right phrases appearing, and they're generating customers.
We did not find HTML headings (<H1> to <H6>) on this page.
Your website does not use HTML headings (<H1> to <H6>) or it has far too many HTML headings.
Use your keywords in the headings and make sure the first level (<H1>) includes your most important keywords.
While it is important to ensure every page has an <H1> tag, never include more than one per page. Instead, use multiple <H2> – <H6> tags.
17 ALT attributes are empty or missing.
Alternative text (the alt attribute) is missing for several images. Add alternative text so that search engines can better understand the content of your images.
Remember that search engine crawlers cannot actually "see" images, so the alternative text attribute allows you to assign a specific description to each image. They are also used by screen readers to help provide some context for the visually impaired.
Adding alternative text can help to reinforce how relevant a page is to its target keywords, while also making images more likely to be displayed in the Google™ Images search results.
Check the images on your website and make sure ‪‬‬effective alternative text is specified for each image.
Restrict the number of characters in alt text to 150, including spaces, and minimize the size of images to optimize your website's page load times.
Your website is missing a rel="Publisher" tag for linking to your Google+ Page.
Your website is missing a rel="Publisher" link to your Google+ Page. This type of authorship markup is great for your brand. It ensures that your company is featured in SERPs, as opposed to only individual authors as is common with rel="Author".
Your website does not have an XML sitemap – this can be problematic.
A sitemap lists URLs that are available for crawling and can include additional information like your site's latest updates, frequency of changes and importance of the URLs. This allows search engines to crawl the site more intelligently.
We recommend that you generate an XML sitemap for your website and submit it to both Google™ Search Console and Bing Webmaster Tools. It is also good practice to specify your sitemap's location in your robots.txt file.
It's important to only include pages that you want the search engines to crawl, so avoid any that have been blocked via your robots.txt file. Check the URLs to ensure that none of them cause redirects or return error codes. This includes being consistent with your URLs, for example, including your preferred URLs (with or without www.), including the correct protocol (http or https) and making sure URLs all end with or without a trailing slash.
We found underscores in this URL and/or in your in-page URLs.
We have detected underscores (these_are_underscores) in this URL and/or in your in-page URLs. You should instead use hyphens (these-are-hyphens) to optimize your SEO.
While Google™ treats hyphens as word separators, it does not for underscores.
Blocking Factors – Flash: Yes
Flash should only be used for specific enhancements. Although Flash content often looks nicer, it cannot be properly indexed by search engines. Avoid full Flash websites to maximize SEO. This advice also applies to AJAX.
Frames can cause problems on your web page because search engines will not crawl or index the content within them. Avoid frames whenever possible and use a NoFrames tag if you must use them.
We have not found a Blog on this website.
In this tough and competitive internet marketing world, content marketing rules. While publishing your content on other sites might be a good strategy, publishing it on your own site garners more benefits.
Starting a blog is a great way to engage with your audience and increase your online visibility by attracting qualified traffic from new sources.
Use our tips to optimize your blog and improve performance.
If you don't feel that a blog is right for your business, consider other ways to build useful evergreen content, such as online guides and whitepapers.
Language Declared: Missing, Detected: English
You have not specified the language. Use the META Language Attribute to declare the intended language of your website.
Tips for multilingual websites:
Define the language of the content in each page's HTML code.
Specify the language code in the URL as well (e.g., "mywebsite.com/fr/mycontent.html").
No Structured Data Markup has been detected
Structured Data Markup is used to generate Rich Snippets in search engine results. It is a way for website owners to send structured data to search engine robots; helping them to understand your content and create well-presented search results.
Google™ supports a number of rich snippets for content types, including: Reviews, People, Products, Businesses and Organizations, Recipes, Events , Videos, and Music. If your website covers one of these topics, then we suggest that you annotate it with Schema.org using microdata.
Google+ Page Not found
Add your Google+ profile or create one
This page is your business listing in Google+. Being active in this social network is important for claiming your brand, influencing your search engine rankings and interacting with your network. You might also consider managing your profile with Google My Business (formerly Google Places).
Performance
Render blocking – Remove or defer any JavaScript or CSS that interferes with loading above-the-fold content.
No Browser caching – Implement caching to speed up the loading of frequently used content.
No Compression – Compress JavaScript and CSS resources where possible to help your site run faster.
Mobile
Not Responsive – Give your site the gift of responsive design by using the HubSpot Website Platform.
No View ports – Configure the meta viewport tag to width=device-width.
SEO
No Meta description – Reduce meta descriptions to 155 characters in length and include keywords once.
No Headings – Add an H1 tag to each page and include a keyword that's relevant to that page.
No Sitemap – Publish a site map and submit it to Google so it can more easily crawl your website.
Optimizing your website's performance is crucial to increasing traffic, improving conversion rates, generating more leads, and increasing revenue.
PageSpeed Score: E (59%)
YSlow Score: C (77%)
Page Load Time: 1.3 seconds
Best-in-class webpages should load within 3 seconds. Any slower and visitors will abandon your site, reducing conversions and sales.
47% of consumers expect a web page to load in 2 seconds or less.
40% of people abandon a website that takes more than 3 seconds to load.
Total Page Size: 936KB – The page size should be less than 500kb.
The heavier the site page, the slower the load. For optimal performance, try to keep page size below 3MB.
Requests: 37 – The number of requests should be less than 50.
The more HTTP requests your website makes, the slower it becomes. Combine files to minimize the number of requests made.
Speed Recommendations:
Leverage browser caching
Minify JavaScript
Enable gzip compression
Minify CSS
Defer parsing of JavaScript
Optimize images
Add Expires headers
Compress components with gzip
Use a Content Delivery Network (CDN)
Configure entity tags (ETags)
Let us help you complete the tasks above and get your web pages and website ranked higher in major search engines like Google. We will help you dramatically increase targeted traffic, conversions, and sales from your website.
Give your business a big advantage over your less clued in competitors and improve your site's performance with our small business SEO packages. They start for as little as $500, check out our packages.
GET MORE STUFF LIKE THIS
SEO, Social Media, Video, Marketing, Blogging, & WordPress Tips, once a week.
Thank you for subscribing.
Something went wrong.