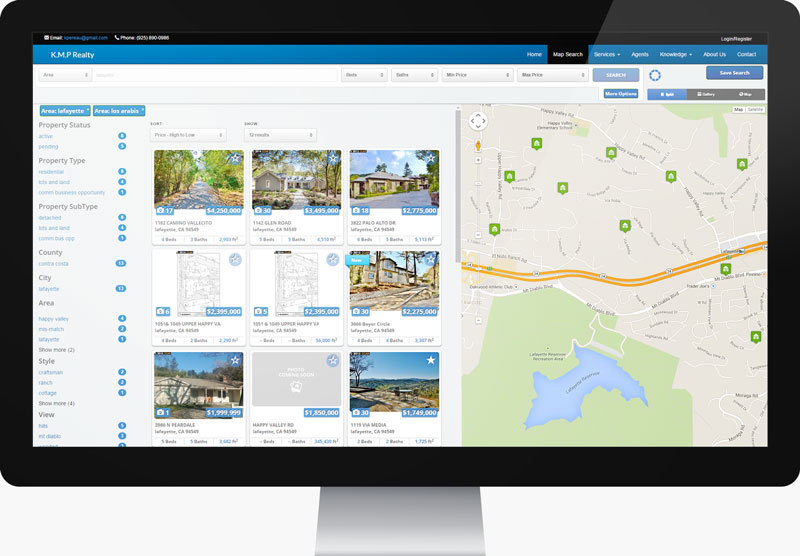 Case Study
KMP Realty
124% increase in visits year over year
Indexable IDX
Custom WordPress features
Search engine optimization
Weekly blog writing
Geoffrey exposed me to social media marketing and continues to advise and help me keep our business visible in the online world ... I recognize and appreciate his knowledge and expertise in online marketing, web design and all the social media that goes on today. Geoffrey has given me outstanding service, excellent ideas and most important he is trustworthy.

Marilyn Devegenzo
... We learned how to use content marketing, social media, our website, SEO, and paid programs for lead generation. He helped us understand what information you should collect from prospects, as well as how to test, optimize, and measure your marketing campaigns...

Gail Wilson
Tech Design Studios has been an amazing service allowing us to connect with our customers through social media and email marketing, which in turn has increased our business. They have been integral in keeping our fans updated as we launched a new location. Tech Design Studios takes care of it all for me. They handle all my social media, website, SEO and keep the conversation growing. Geoffrey is helpful, responsive and has what it takes to jump start your online word of mouth.

Marie James
... Geoffrey been very helpful in coaching me and my employees on how to run a productive email and social media marketing plan. I recommend him and look forward to working with him again.

Nick Artello
I've been very impressed with Geoffrey's expertise in search engine optimization and content marketing. He has a deep understanding of both the technological and the strategic aspects of Internet Marketing and how best to spend use your time as a small business owner ... If your online presence is weak, fragmented, or nonexistent, talk to Geoffrey!

Yone Hill
Geoffrey is an amazing business partner! His ability to view business from a sales & service perspective & offer insight on how to leverage new internet technologies to draw more business has been nothing short of staggering! With Tech Design Studios we're consistently ranking high with key search terms, and thus driving prospects to OUR site first, way ahead of our competition!

Jessica Abney
Tech Design Studios takes care of it all for me. They handle all my social media, website, SEO and keep the conversation growing. Geoffrey is helpful, responsive and has what it takes to jump start your online word of mouth.

Marie James
Me and my team were very pleased with the SEO Tech Design Studios has done for our business. My website gets better and better results every week, they're always available to answer questions. Highly recommended!

Nick Artello
Geoff has been an enormous help to me on two different projects. He assisted me in building a website for a school as well as our family website. He introduced me to numerous helpful apps, and quickly prepared mockups...

Kathleen
Geoffrey was great. He was responsible, professional and kept us in the loop on the status of the project. He has a special gift in a growing industry! I know he will be extremely successful as he builds his business.

Elizabeth Stanners
It's important we remain knowledgeable and current on business law, reforms and legal requirements. This influences our copywriting, marketing and design suggestions. We are fully aware of the importance in following business guidelines, as well as legal ramifications when these are not adhered to. We are continually building our library of business resource articles and federal legal reforms surrounding business laws.
5 Real Estate Marketing and Advertising Tips for 2015
Need a formula for growing your real estate business? In this post, we share 5 great strategies for boosting your reputation and growing your real estate business. Read More
High Earning Real Estate Agents Believe In Online Marketing
A recent survey by the National Association of Realtors revealed that real estate agents who earn more than $100k a year spend more on marketing, 50% update their website more than once a week. Read More
Who We Are
We help businesses understand how to use Web, Search, Social, Email, Content and more to better promote their business online. To put it simply, we de-mystify SEO and internet marketing for business owners.